Task Tracker
Task Tracker provides an organized approach to catch and process the various questions, ideas, decisions, defects, and other miscellaneous challenges that come up over the course of a project.
Doesn't it feel good when your team starts embracing issues instead of dreading them? From bug fixing to employee support, Task Tracker is a simple bug tracking system that your programming team; technical and non-technical will love to use and your helpdesk department will thank you for streamlining the grievance management process in a powerful way like never before.
The Task Tracker module of ItNet enables teams to find and record issues and even more important, assign them to the right team members. It provides one uncomplicated, central hub where all issues, regardless a bug or a request to add new features are addressed seamlessly without the need to install separate software and maintain spreadsheets.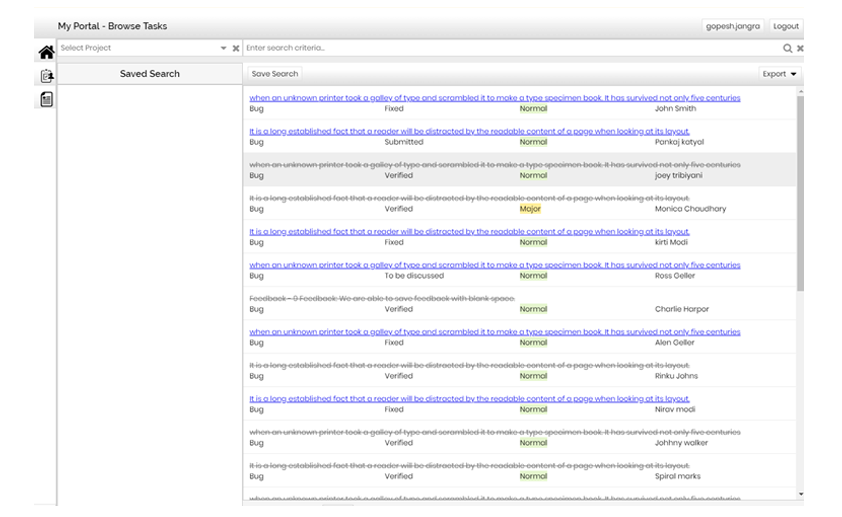 Capture bugs anywhere in your software projects with Task Tracker module of ItNet. Once you've identified a bug, create an issue and add all relevant details including descriptions, severity level, screenshots and more. Issues can represent anything from a software bug to a feedback request and each unique issue type can have its own custom workflow that is smartly managed by Task Tracker.
Once bugs have been captured, prioritize them based on the importance and urgency of the issue and then based on the Issue Type assign them to the team members. Task Tracker is one uncomplicated, central hub where you can tie everyone altogether and ensure the team is working on the highest priority items first.
Each issue has a status: Open, In Progress, Pending, Fixed and Verified that marks the development stage of the issue. This way your team can always track the bugs and issues as they get fixed and tested. Receive notifications in your inbox when an issue is reported, a commit is committed and a build is produced and be informed about everything happening in your workplace.