Ken
Frame product manuals, technical documentation, KB articles, FAQs, API guides, HR documents ....all in one portal without an office suite installation.
Ken, an ItNet based content development platform enables subject matter experts to create professionally designed documentation for your online help centers, software & API documentation, policy & procedure manuals, maintenance manuals, knowledge bases, HR portals or user guides etc.
Your entire content catalogue is organized in one place, providing authors, translators and proof readers with all the tools they need. Ken allows for the streamlined creation of documents and outputs for both digital and print distribution.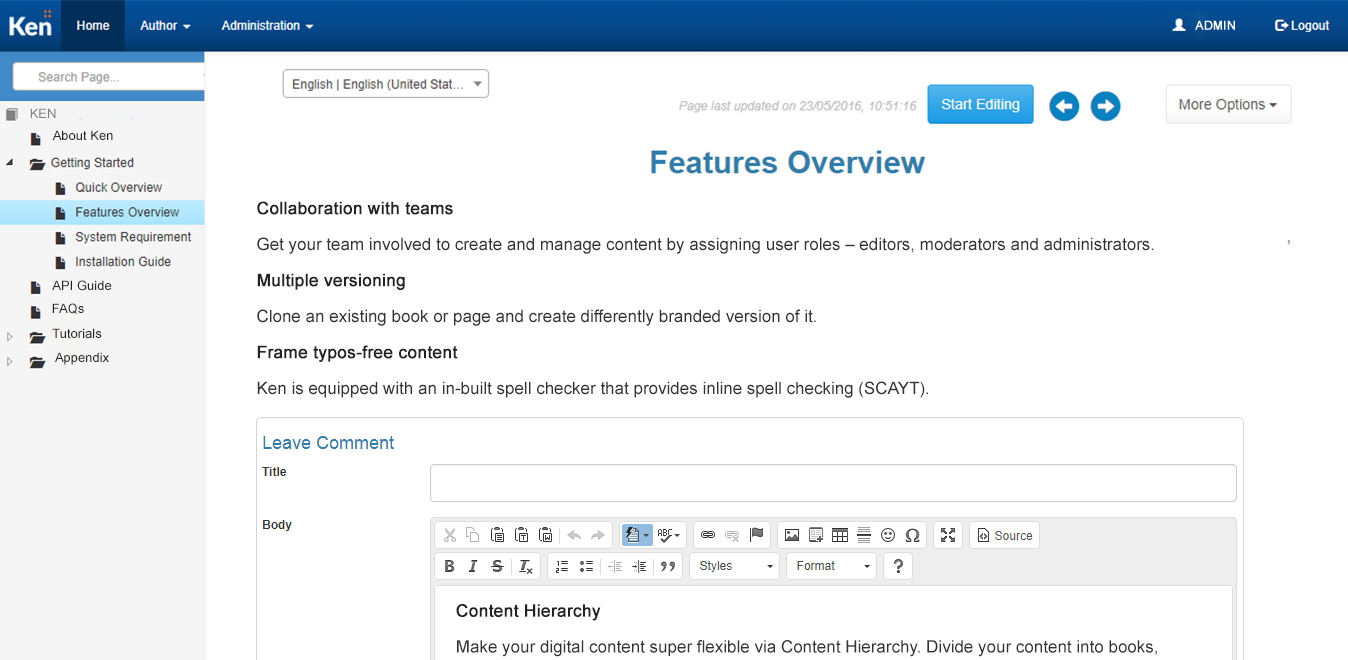 Get your team involved to create and manage content by assigning user roles - editors, moderators and administrators.
Track and provide control over changes on documents through revision control. Revisions can be referenced as well as reverted to previous version(s).
Ken is equipped with an in-built spell checker that provides inline spell checking (SCAYT).
Make your digital content super flexible via Content Hierarchy. Divide your content into books, chapters and pages with unlimited depth and size for easy access and great understanding.
Format your text's size, font, and alignment to meet your requirement. The embedded text editor allows you to insert images from external files of popular graphical formats, tables of any complexity levels, and various other objects within the content.
Multiple Language Support
Ken supports all character sets and text. The simple localization framework makes it easy for you to write in the language of your choice.
A person hardly requires any training to start editing the content using Ken. All you got to do is open your browser and get on the job.
Ken can be utilised in a closed business environment to produce in-house materials, online to make open documentation resources, or for community based production.
The easy to use environment of Ken enables you to concentrate on writing effortlessly. To work on the images and their formatting, simply drag-and-drop.
Setup your style in advance at global level. Define font, size, colors, logos, footer etc via templates.
Managers and subject matter experts (SMEs) can review and contribute to the content by leaving comments on the pages.
User can subscribe to books and pages. Users are notified when someone adds page to a book, comments on a page or make changes.
Easily export content to multiple formats such as PDF or WORD.
Import content from other applications such as Microsoft Word.
Autosaves your data periodically so you may not lose hours of work. Check the last updated time on a page.