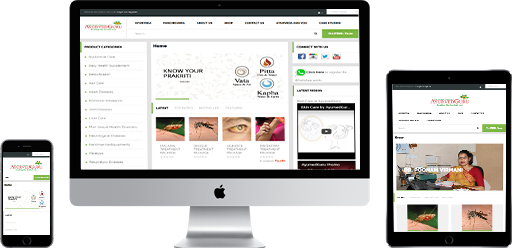 The Client
AyurvedGuru India has been in the business of providing exceptional ayurvedic products and solutions since 1996.
Imbibe partnered with AyurvedGuru India in the year 2015 and since then Imbibe has been providing its web development, maintenance, designing, branding and consulting services to the client on an ongoing basis.
Business Needs
With the vision to keep alive the tradition of Ayurveda and to expand their footprints in the virtual world, AyurvedGuru turned to Imbibe. Imbibe helped the client understand how to achieve their goals and delivered solutions that provided astonishing digital experience to help client expand their business roots globally.
Our Solution
The client had an online presence which was utilized only for corporate information. There was a need for an ecommerce and brand promotion solution. In order to achieve that goal:
We migrated their corporate site to a WordPress CMS based ecommerce website.
We worked to fix design and development issues, as well as a host of SEO issues of their corporate site.
We re-framed the web content that speaks the strength of their services and products.
We did a comprehensive digital marketing for the client to expand the footprint of the e-store successfully. As a result, the web traffic has increased month-on-month and so has AyurvedGuru's reputation and brand value.