After finishing my recent post on Creating font icon package for ExtJs, and sharing it on various social platforms using my individual account, I wanted to use Imbibe's accounts to re-share my posts on respective platforms. Sure, that should be easy anyone would imagine.
It was on Facebook, you click Share under your post, then choose Share to a Page, and then select the appropriate page and Posting as options.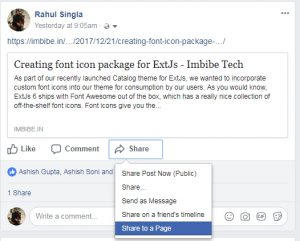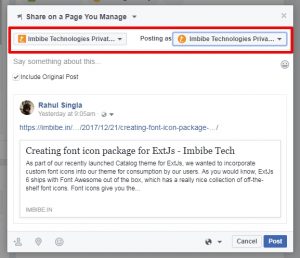 It was easy on Twitter too. You login under your brand account, goto the Tweet (that you tweeted as an individual) and simply re-tweet it.
However the way to do the same was not so intuitive on Google+. It took me sometime to figure and I hope writing the steps here would save you sometime.
It should have been a much easy affair I would have reckoned as with other social media platforms, but it took sometime to figure out the right steps to share an individual post under an owned or managed brand page.
As always, feel free to share your thoughts or your queries below. Contact us if you need help with your digital marketing strategies and/or execution.