INTRODUCTION
Intranets are supposed to connect employees in an organization and keep them engaged. Though, an Intranet software poorly managed and created with an outdated structure might do the opposite. No one likes to muddle themselves in files and folders of outdated intranet software.
Furthermore, with time, this collaborative software loses its interactivity, and therefore it is crucial to keep it vibrant. Here are some tips for you to achieve that: –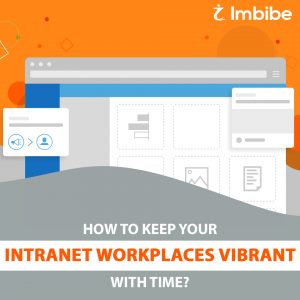 NEWS FEEDS SHOULD BE RELATABLE AND ENGAGING
To keep the employees engaged, the HR managers need to share news and blog posts that cater to their interests. Also, they can share and celebrate the accomplishments of the company. Here are some common content ideas for the Intranet: –
Blog Posts of CEO
New Joining Announcements
Sales Successes
Company Event Details
New Client Announcements
KEEP ALL THE RELEVANT EMPLOYEE INFORMATION AT ONE PLACE
An employee searching for the company's health insurance policies should be able to find it effortlessly at one location, and not in the deep directories of files and folders. The retrieval of documents and uploading should be easy and straightforward. If an employee writes "Policies" in the search bar, various Policy Documents should instantly come in front of him/her.
MAKE SURE YOUR EMPLOYEES DO INTERNAL DISCUSSIONS AT COMPANY'S INTRANET
Make sure that internal work discussions and informal conversations of employees are happening on the company's intranet. Long email threads must be avoided, & it should be a tool for more open and relevant information sharing. If this isn't the case, you should consider trying new cloud-based intranet software for your organization.
CONNECT WITH REMOTE WORKERS USING INTRANET
In the year of the Covid-19 pandemic, remote work is popular than ever and corporations need to adapt to it to bridge the gap. Intranet software offers the best solution to keep a remote workforce in touch and does their jobs. Here are some features that your Intranet software must include to keep them engaged: –
Instant Messaging
Mobile Connectivity 
Video Calling
News Feed Option (it enables employees to stay aware of any updates and changes in company culture.)
To promote connectedness, you can create an intranet's employee directory that's searchable to all employees.
CONCLUSION
These were some tips to keep your company Intranet engaged and chirpy. Are you looking for a cloud-based intranet platform for proper talent management? ItNet by Imbibe tech. is one such tool. IT-Net allows you to easily manage employees, documents, and employees within your organization. Contact Imbibe tech. to know more.