As you know, how this world is evolving at its rapid pace, and how there is nothing in this world has been untouched by the grasp of the pandemic. 
Covid pandemic has devastatingly affected the world. As we discussed earlier, not even a single industry has been untouched by the coronavirus; each one of them has its own challenges to face.
And when it comes to IT consulting services, it's no different. Corona pandemic has already affected every IT function, while the full extent of the pandemic is yet to be seen. You may have heard about the different variants of the Corona Virus and the third wave of corona pandemic yet to hit India.
Let's take a look at some of the challenges that have been conquered by Imbibe in the Covid Pandemic: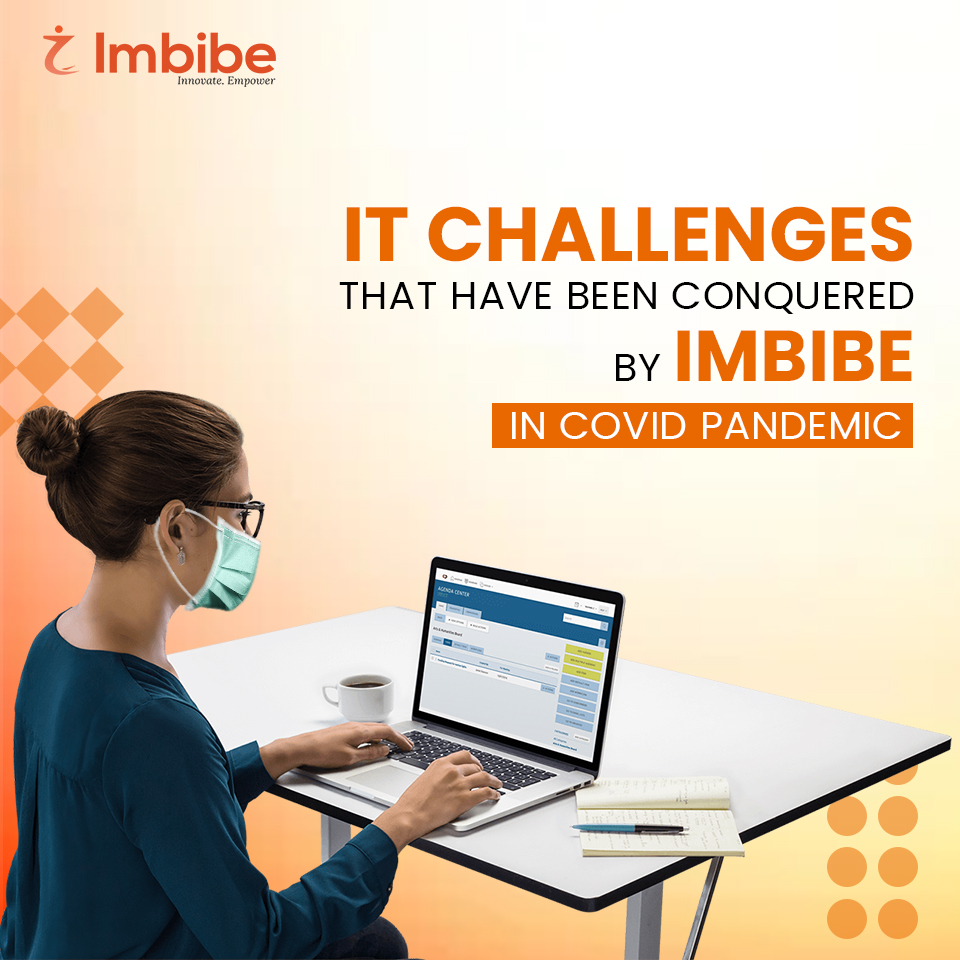 Cloud Migration
As IT service providers, one of the most common pieces of advice that we give companies is to migrate their digital assets, services, databases, IT resources, and applications into the cloud. Migrating certain processes to the cloud could prove to be beneficial, especially at a time like this. 
Nowadays, employees are working from home, migrating processes and functions to the cloud provides them a whole new level of accessibility.
Increase in cybersecurity risks
Now that employees are working remotely, and companies are migrating their functions and process into the cloud, this move to remote work increased cybersecurity threats. The pandemic created a breeding ground for hackers and crackers.
It has become equally important for companies to recognize that this new level of accessibility also needs improved cybersecurity. 
The best way to deal with this issue is to develop a work from home policy for employees. IT work from home policy is of utmost importance. 
We have instructed and educated our employees about operational protocols to keep the company's data and other resources safe and secure. 
Multi-factor authentication, proper files storage, strong passwords, and controlled user access. These measures allow our IT department to place security measures to prevent a data breach.
Backup and Disaster Recovery
Backup and disaster recovery is critical for minimizing the impact of unplanned downtime on your business because it can quickly result in lost revenue.
Whether you are a private company or a public organization, developing, implementing, and maintaining a disaster recovery plan is essential. 
Having a backup and disaster recovery plan helps your company identify potential threats and restore backup data if you encounter an accidental deletion, database corruption, and develop initial responses to mitigate the risk of data loss. 
Imbibe is an IT services company dedicated to providing superior quality service to different industries. We strive to deliver affordable and reliable solutions for all your IT needs. Our shared knowledge and combined efforts ensure your business always has the latest and most effective technology.