An emergency can disrupt business operations at any time. Storms, earthquakes, power outages, and data breaches can all cause damage to your infrastructure, which ultimately results in downtime and loss of trust in your business, which results in losing customers.
Also, local, regional, or national events may occur that could cause significant damage to your business.
The aftermath of a disaster can make your business upside down.
The business climate today requires organizations to quickly recover from disasters, no matter how severe they are. Disaster recovery plans are essential for businesses because they reduce the impact and help them recover their IT systems after a disaster. That's why it becomes important for you to create a disaster recovery plan.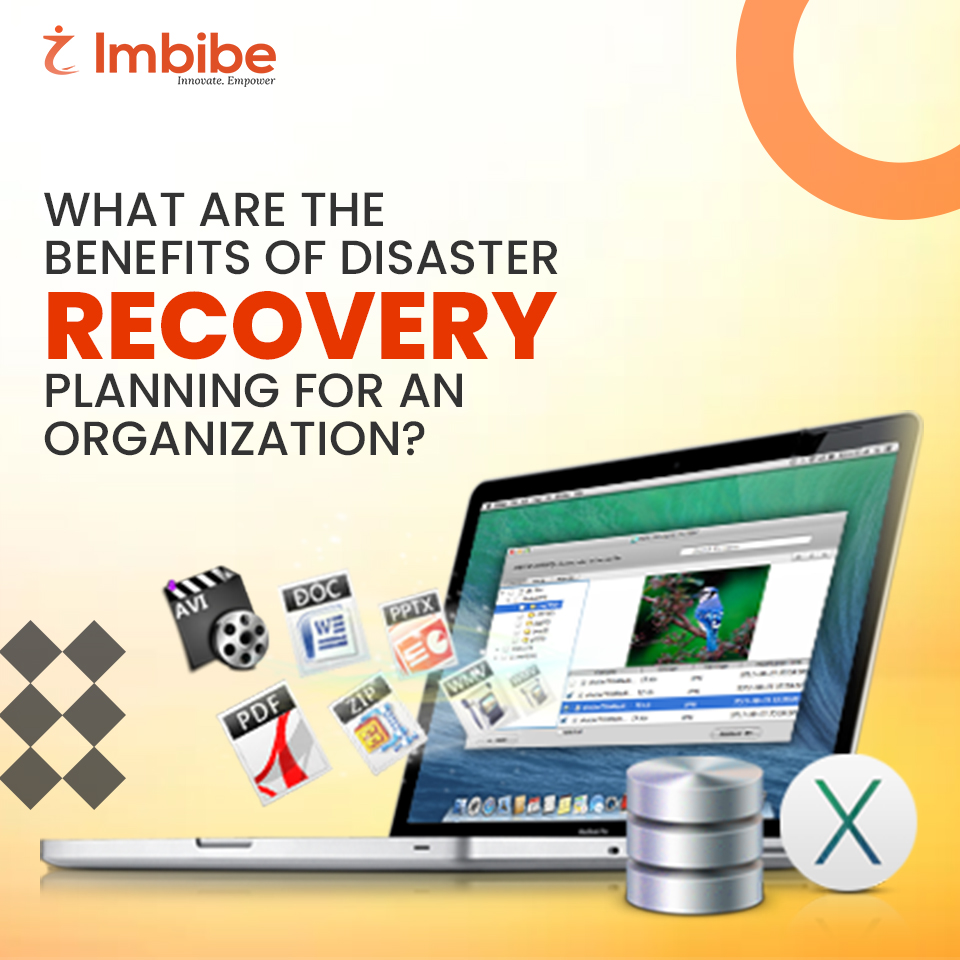 Without a disaster recovery plan in place, an organization might face high losses in terms of financial costs, reputation, and even greater risks with customers and clients.
Disasters can strike any business at any time. Before a disaster strikes, take steps to put a recovery plan in place.
So, are you prepared for disaster recovery?
If yes, then Imbibe IT Consulting Services can help you minimize the impact of unplanned downtime and will develop initial strategies to prevent data loss.
Here are a few benefits of disaster recovery planning:
Drastic reduction of restore times
With a Disaster Recovery solution, you can restore systems, services, and applications in a short timeframe and get significantly lower RTO and RPO. If you use a Disaster Recovery solution, you can drastically reduce restore times based on your needs, which would not be possible without one.
Reduce revenue reductions and other costs to a minimum
By updating on time and investing in more innovative hardware and software, organizations can potentially save a lot of money in the long run. Moreover, more and more organizations are moving towards cloud-based data management over local storage and operations.
In reducing restore times of business information systems, you can limit the losses both in revenue and in other areas, such as management or technical assistance costs.
Greater Customer Retention
Clients today demand only the best quality and the most reliable service. Failures or downtime are certainly not acceptable. It is common for clients to switch to another provider if a certain service provider doesn't meet their expectations.
Regardless of the circumstances, disaster recovery planning enables businesses to maintain a high level of service quality.
By reducing the risk of downtime and data loss, you ensure your clients will receive an adequate level of service no matter what happens. In order to sustain customer retention, investing in disaster recovery planning is a necessity.
Conclusion
Despite being a tedious process, disaster recovery plans streamline your company's IT functions. It is not simply about recovering in the wake of a disaster, but about making your business more profitable and robust.
We can help you invest in better technology to improve productivity. Contact us if you're interested.