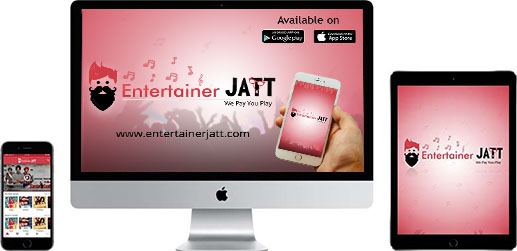 The Client
Entertainer Jatt is your gateway to the Punjabi Music Industry; covering the entire spectrum of the industry, from local budding talent to the hotshots and celebrated artists.
Business Needs
Entertainer Jatt realized the need for a platform where everyone in the Punjabi music industry including the unknown faces should get recognized and earn due credit for their work. At the same time, the client wanted to provide masses with quality entertainment, unlimited free access to the latest Punjabi music and Pollywood updates.
Imbibe was contacted to build from the ground up a back-end platform, front-end website, iOS and Android apps for the Punjabi music Industry- all within a short duration of 4 weeks.
Our Solution
We designed, developed and optimized a high-quality online music portal within demanding time constraints.
 We worked to develop customized Android and iOS apps for the client. The objective of the solution is music delivery of popular and new artists in Pollywood and providing online services to all their followers, which would lead to widen their fan base.
We did full-services digital marketing for the client helping the client to drive traffic to their website.
With our dedicated team work and industry-driven experience, we successfully executed the complete project without any time lapse. Apart from getting acclamation from the client, the same was well received in print and online media and created a good hype in Punjabi music industry for achieving the goal for our client.