Having a robust intranet helps an organization to communicate, engage and collaborate with other employees in better way. It helps in achieving the critical objectives and goals of the company.
ItNet by Imbibe is one such platform to manage employees, documents and resources within an organisation.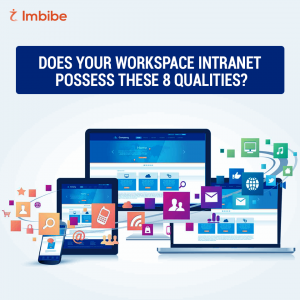 There are 8 qualities that every workspace Intranet should possess. Let's see them one by one: –
ACCESSIBLE FROM ANYWHERE
An effective Intranet should be accessible from anywhere, and not just in-between organisational walls. It should be deployed on cloud so that it can be easily employees can easily access it from anywhere and anytime. This also helps employees to stay in touch and on the go.
HAVE A STREAMLINED UI AND MEANINGFUL DESIGN
Your Intranet Software's UI and Design should be streamlined and beautiful. If employees find it cumbersome to learn and operate, it will only increase employee frustration.
ItNet by Imbibe offers seamless browsing experience with an intuitive user interface and design for better navigation.
DOCUMENT MANAGEMENT AND SHARING
An intranet should be the only place to access all the important company documents in the form of pdf, files, spreadsheet etc. It will act as knowledge reservoir for the new employees, as all the important documents and learning materials are available on it. This feature facilitates the training of new employees in the organisation.
INFORMATION AND DATA SECURITY 
There should be strong security layers of password protection in your workspace Intranet that blocks unauthorized access to your personalized data and information.
ItNet by Imbibe is smart enough to prevent the breach and misuse of company's data by implementing strong access control policy.  
EMPLOYEE FORUMS AND CHAT
A good intranet is all about promoting internal communication between colleagues. There should be organised employee forums for work discussion and sharing of ideas. 
A personalized group chat feature for every department will help in increasing collaboration and saving much of employees' time.
TRACKING BY ANALYTICS
Analytics column can help you infer various data insights about what is working and what is not, within your organisation. Leaders can analyse sales, and marketing reach in company's Intranet and provide critical feedback for further improvement in any domain. This will not only help you but also your employees to jump on better conclusions.  
HR can also track employee performances under Performance Analytics section. 
EASY ON THE POCKET
The intranet software you are planning to buy should be easy on your pocket; so that even if you have a small business, it falls under your budget.
CUSTOMIZABLE
The intranet should be customizable as per your organizational needs and requirements. When it comes to intranet, there's no such thing as "one-size-fits-all". Modifications are required as per the needs of company, and Imbibe Tech. provides all the assistance you need in required making amends in the software.
These were the 8 features that every Intranet software should possess. Though it should be noted that other features like Social Media Integration, Calendar Management and Search Capability matter equally.
Are you looking for a cloud-based intranet platform for proper talent management? ItNet by Imbibe tech. is one such tool. IT-Net allows you to easily manage employees, documents and employees within your organization. Contact Imbibe tech. to know more.