Websites that make it to the top of google results are deemed as the "king" and are usually associated with having high-quality content. People usually visit such websites and have a good reputation online compared to other websites. Whether you're a business owner or an individual who wants their website page to be ranked among the first pages, you should be able to do this through SEO services providers.
Imbibe is the digital market company in Karnal that helps websites rank top on google results on their keywords. We not only provide our clients with quality website designing & development services but also help them to get profit from search engine marketing services.
Below are some common mistakes made by website owners and individuals to improve their website's ranking. But before we go any further, let us discuss some important statistics which will give you a slight idea that why it is crucial to rank your website on top of google results.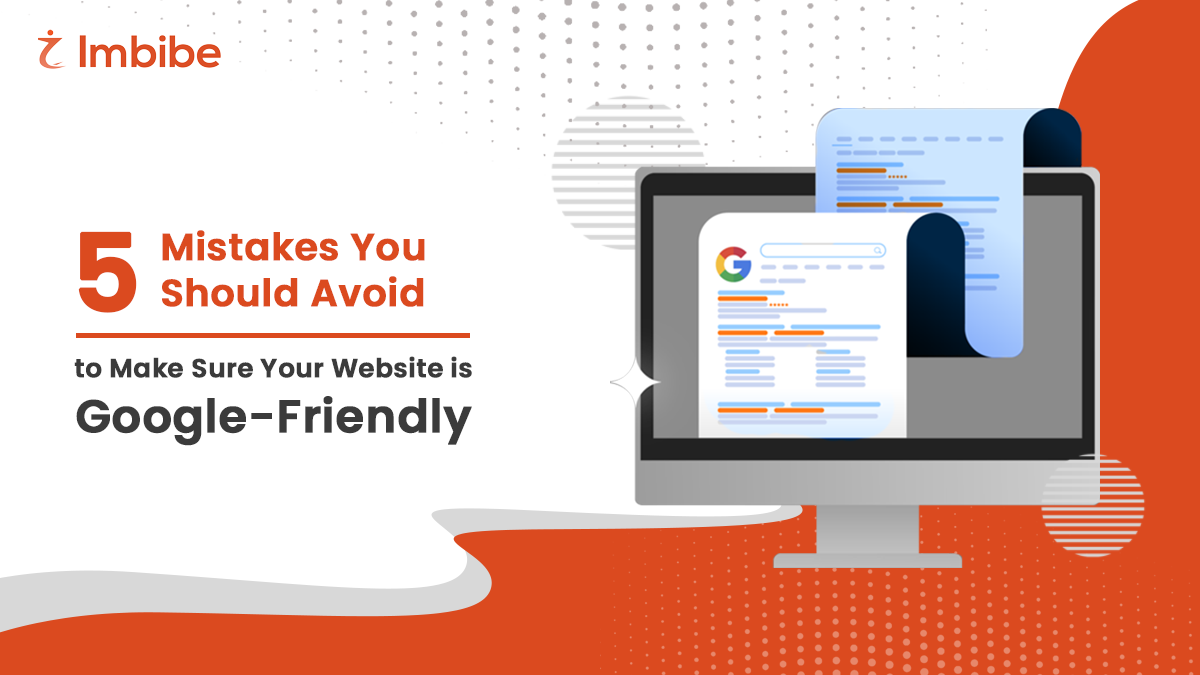 Statista report says that Google currently has over 85% of the search engine market, which means that no doubt ranking high on Yahoo and Bing will bring visitors to your site, but Google is where the majority of customers come from. 
Zero Limit Web estimates that the first five organic search results account for 67.6% of all clicks on the first page. And the reason it happens is that visitors think that they have a good reputation online compared to other websites. So it is not enough for your site to simply index on Google.
Here is the list of 5 mistakes you should avoid in making sure your website is Google-friendly. You will learn what they are and why they can affect your overall ranking at the top.
Duplicate Content
Having thin content on the product and service pages of the website is a common mistake. The content you build for your website can improve its search engine optimization and inbound traffic. Having good and quality content on a page helps visitors understand they have come to the right place. 
Google can give you a thin content penalty if you have duplicate and low-value content, which can drastically hurt your SERP ranking.
Keyword Stuffing 
Keyword stuffing is one of the worst things you can do for your website. Keywords are one of the most crucial aspects to consider when building a website, and without them, Google has no idea what your pages are about. That is why you should avoid keyword stuffing at all costs.
To avoid keyword spam, always analyze your content before posting it on the website. 
Do not just stuff content with keywords for the sake of ranking high, but rather write content to solve searchers' queries.
Not Paying Attention to Meta Tags
When it comes to on-page SEO (search engine optimization) a lot of people overlook the power of their meta tags. But, this is a mistake as not only are these title tags important for the user but they are an important ranking factor for search engines.
When optimizing a website, it is crucial to pay attention to the page's meta tags. This can help present your website in a more positive light and attract more visitors. These are pieces of information that are added to the HTML code of a web page. They are not visible on the actual web page, but search engines use them to understand the subject matter and content of the page.
Not Using Google Search Console and Google Analytics
People have been looking for good ways to track their website search engine optimization efforts. The two major sources of data are Google Analytics and the Google Search Console. Both of these services contain good information on your site. 
Using Google Search Console and Google Analytics for Seo of the website is the best way to analyze your site for improvement. To improve your site's ranking on the search engine, it is smart to first use tools like these to find out where you are at what you can improve, and how well your site is working in a big picture sense.
Using Low-Quality Back Links
The power of backlinks can help boost your website's ranking, so it's always a good idea to use them. It is crucial to realize that not all backlinks are high quality.
Your backlinking strategy depends on the website you are linking to.
There are terms like Black Hat and White Hat link building that you have probably heard before.
The term "Black Hat SEO" refers to techniques, tactics, and strategies that are designed to boost search engine rankings without thinking about the needs of humans.
Black Hat SEO does not follow search engine guidelines and can ultimately hurt your website's ranking forever since it does not take into account the guidelines.
A White Hat SEO strategy is clearly geared toward human audiences while also following the guidelines set out by search engines.
So we recommend using the White Hat SEO tactic for your website
If you are looking for business search engine marketing or organic SEO, then you have come to the right place. We are the best digital marketing company in Karnal. Our experts will help improve website traffic results in major search engines including Google, Yahoo, Bing, and many more. 
We specialize in helping clients achieve high rankings through SEO strategies, link building, search engine submissions, and content marketing. Our clients receive top-quality work that is always delivered on time and to the highest of standards. 
Get in touch with us today!