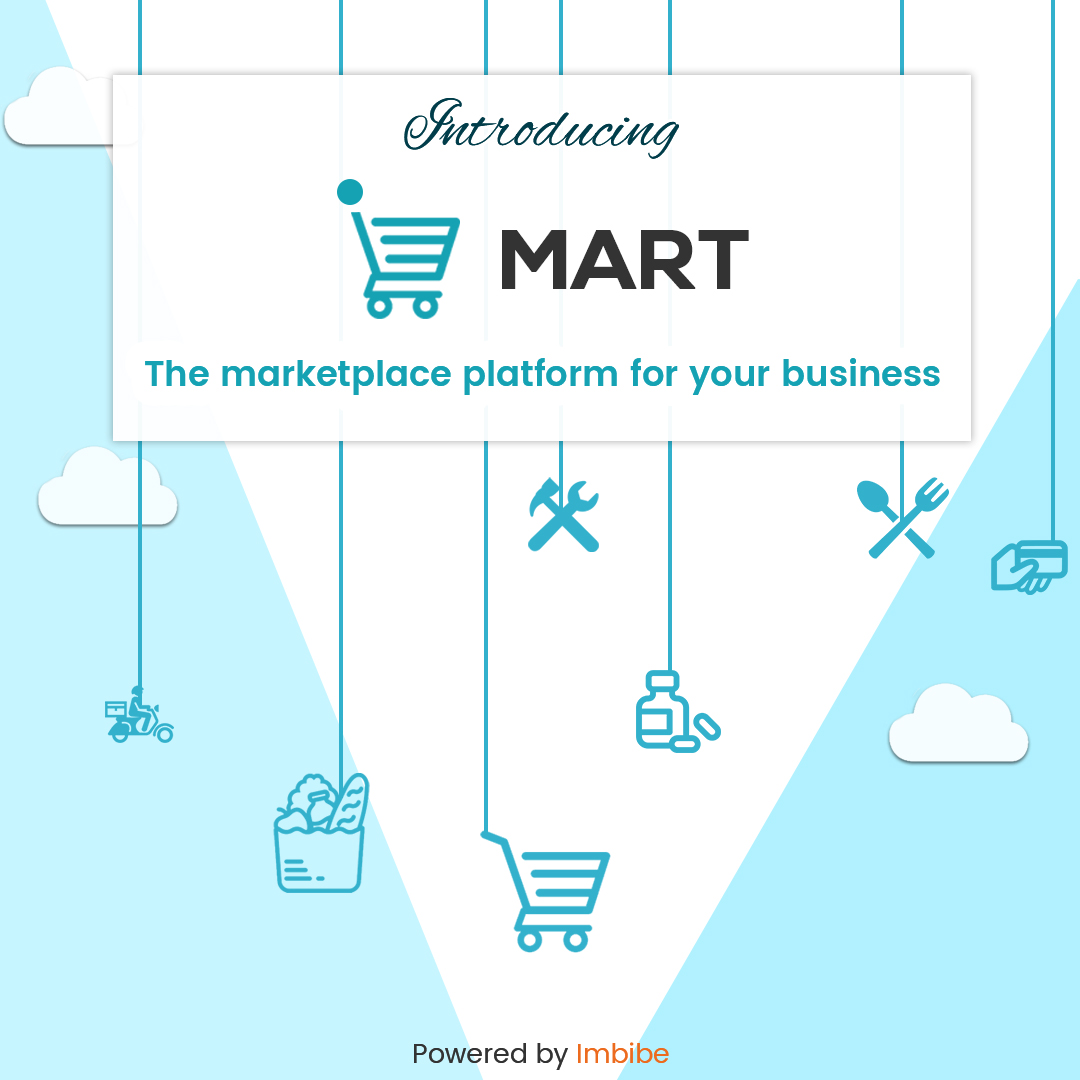 Imbibe is excited to announce the general availability of its Mart platform for businesses. Mart is a platform allowing you to establish and manage an online marketplace (in other words, its like running your own Amazon, Flipkart or e-Bay etc). Mart has been carefully designed and built from grounds-up to support the following use cases:
Enabling establishing an online marketplace to enable sellers to sign-up and offer their products via the platform.
Enabling chains/franchises/stores of a business entity to be able to sell their products/items via the platform and the business entity to be able to manage individual chain/franchise/store discreetly or in-an integrated manner.
Providing an eCommerce platform for a single store to be able to sell its products online.
Imbibe has meticulously worked on Mart to produce a platform supporting these and other use-cases. Mart is a completely modular platform where-in a core module provides the functionality of establishing and managing the basic aspects of an online marketplace, e.g. one or more stores, their item catalogues, pricing, delivery criteria etc. Multiple modules have been built on top of the core; offering among others these facilities:
A full blown CMS – the platform is built on top of a CMS providing rich CMS capabilities and management out of the box.
Social media integration – allows users to sign-up and login using their accounts on social media platforms.
Coupons – enables partners or individual stores to offer discount coupons to their customers.
Wallet – enables cashback and other wallet related options to increase recurring orders from existing customers.
Apis – exposes the entire functionality of the platform as apis to enable consumption from non-web platforms, e.g. mobile applications.
Fax integration – enables dispatching faxed confirmations to stores on receiving orders.
Text integration – enables dispatching order related text confirmations to stores as well as customers who have provided their contact number in their profile.
VOIP integration – enables automated calls to stores and customers on receiving orders. Stores and customers can even choose to confirm or cancel the order over these automated calls.
Payment gateway integration – In addition to cash on delivery option, Stripe, Paypal, Paytm and Razorpay are supported currently and more payment gateways can be integrated very easily (each payment gateway works as an independent module which can be enabled or disabled).
Store signup packages – The platform can offer various signup packages for stores (including subscriptions) there-by monetising signing-up of stores. This is in addition to optional commission that the platform can charge a store per order.
SEO – A dedicated module has been built to provide SEO capabilities around the platform.
Url shortening integration – enables integration with various url shortening services (e.g. bit.ly, yourls etc) to enable sending short urls for order pages to users in emails and text messages.
Reporting – provide individual and group store order reports and automates recurring report emailing on schedule.
Theming – the entire platform is easily themable and its look and feel can be customised very easily to match your needs.
Out-of-the-box apps are available for the platform which can be adapted to your design and usability needs and can be launched in a fairly quick time. Imbibe is also excited to share the fact that atleast a couple of eCommerce platforms are already online powered by Imbibe Mart, and we are working with other businesses to bring their products online.
If you would like to test-drive Mart for your business, go ahead and contact us via this page to schedule a demo or call us at +91-184-4035666. Imbibe looks forward to enabling more businesses join the eCommerce bandwagon globally and specially help push the Digital India program to help businesses reap the benefit of online selling.