What's an Intranet? In simple words, it is a private network contained within an enterprise to connect employees to a single portal where they can get all the work-related information they need. The main purpose of Intranet has remained the same, however the software has seen drastic changes over the time. Today, an Intranet Platform can be used by an enterprise for the following purposes: –
To train employees
Create transparency between leaderships
Maintain work-life balance
Promote employee engagement
Remote work
The intranet has become more of an online community to connect and support employees within an organization. Today, let's study the qualities of a good intranet platform: –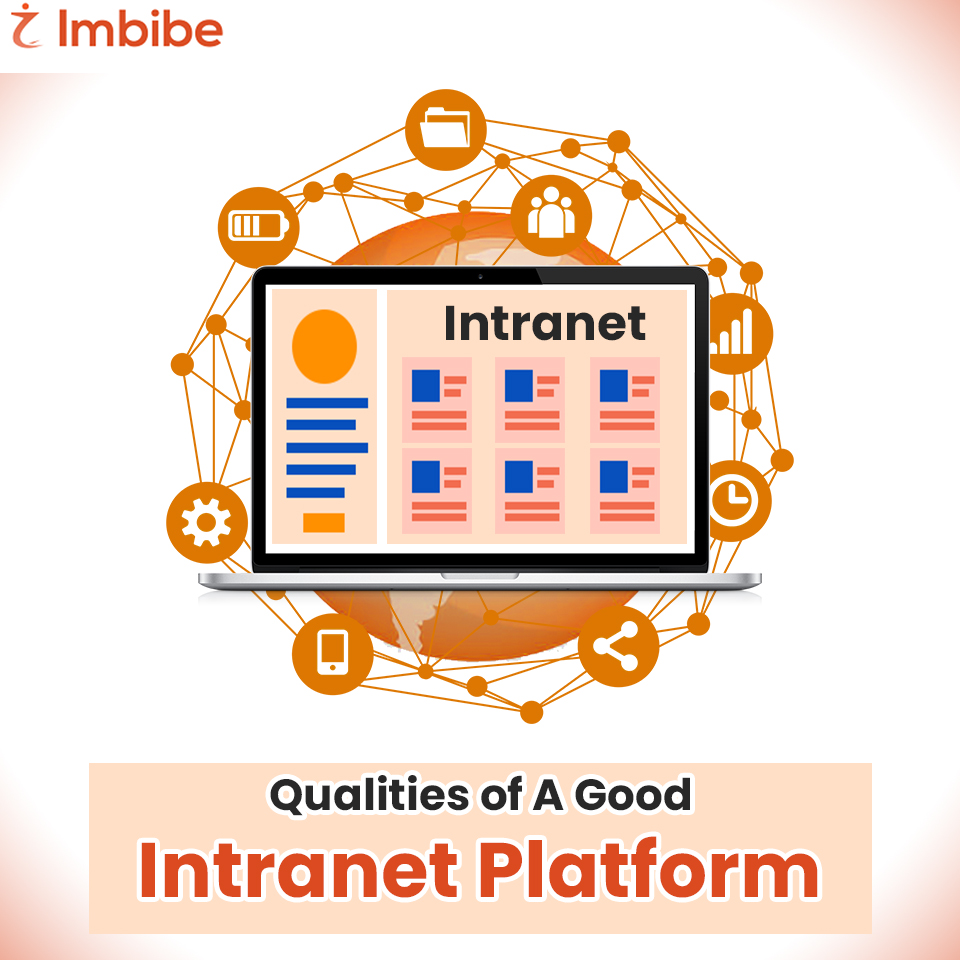 Consolidated Documents, Tools & Data
A good intranet is a place where employees can find the company's important documents and tools for their work. It also acts as a dashboard where employees can read about upcoming events and plan their work accordingly. By making all the work-related and management data easily accessible for everyone, an effective intranet software helps in saving money on onboarding and training costs.  
Connects Everyone
An ideal intranet should provide multiple ways through which employees can connect. There should be spaces for company event discussions, direct messaging, project wise communications, and file sharing. It helps in the collaboration of employees by centralizing workflow and discussions. The News & Activities feature helps in knowing the activities of other departments as well. 
Helps in Building Company's Culture Through Employee Engagement
By using an Intranet, a company can build and strengthen the company's culture. It can improve employee engagement and experience. It can become a place where leaders can discuss the accomplishments, share news articles, and can have better internal communications about the company's vision. All this helps in building a company's culture that's centred around the employees. 
Boosts Knowledge Sharing
Knowledge sharing becomes easy by having a centralized location for new employees. It's easier to connect with experts when they are visible. Leaders can write blog posts or discussion forums to create a learning environment within a company.
Easy to Find Information
An intranet acts as a rich source of information. Employees can get all the information they need, from the search bar option, related to their work as well as about the policies of the company. This helps providing organizational clarity to everyone. 
These were the qualities of a good Intranet Platform. Are you also looking for a robust intranet software for your organization? ItNet by Imbibe Tech is a cloud-based intranet platform and helps manage a large number of employees, activities, attendance, projects, etc. It becomes easy to identify experts and enhance the overall productivity when your employees work in a corporate intranet community. It also helps employees to meet their work
deadlines and maintain better coordination among them.
Contact Imbibe Tech today to know more.