In this era of digitalization, where everything is evolving at a rapid pace, from small businesses run by a single person to huge multinational corporations, every business needs effective IT services and systems to increase productivity. The importance of information technology in any enterprise setting is evident. Strong and reliable IT services enable companies to remain competitive.
Even Clients Prefer working with those businesses which are capable of keeping up with trends in technology. So, it is a must for companies to stay updated on the latest tech trends.
Nowadays, it is impossible for workplaces to function without IT Solutions. The business strategies and implementations have been constantly changing based upon the trends and technologies. To not be left behind, you'd require IT consultancy which would use these trends to favour you.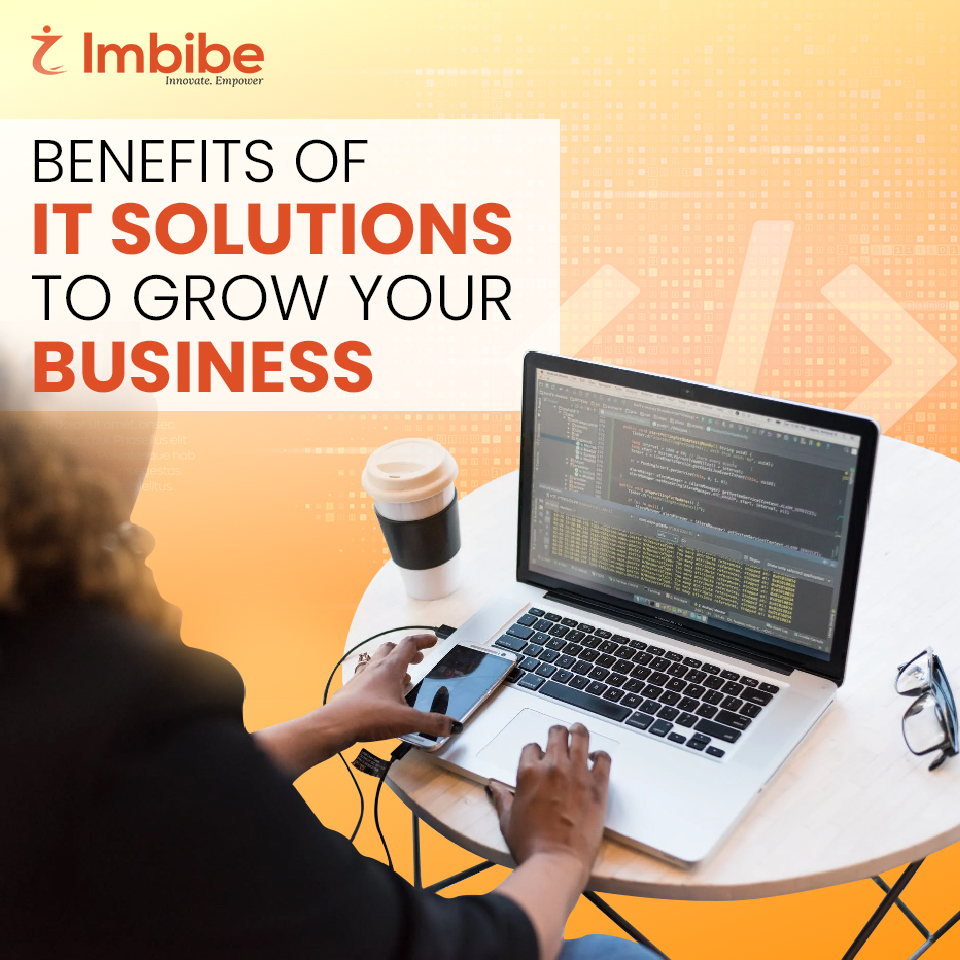 Get advanced IT consultation Services at Imbibe.
Imbibe offers innovative IT solutions with well-defined strategies.
Imbibe design and execute strategies that drive your business growth, aim to reduce expenses, and look for new revenue generation areas.
But before that, let's have a look at some benefits of IT Solutions to Grow Your Business:
Effective Data Management
Data is the core strength of your organization. Effective data management is crucial. Every Business carries important data such as employees' salaries, income, and much more details. 
That's where IT comes in the picture. The incorporation of competent IT services in data management enforces a deeper assessment of business needs. 
An effective backup system for all important files and software helps companies to boost security against data breach attempts. It protects confidential records from hacking and other attempts to leak valuable information about the company and employees.
Imbibe has developed ItNet Software which is smart enough to stop breaches and misuse of corporate data by implementing a strong access control policy.
Solutions for Complex Problems
Executing advanced solutions to complex problems involving the internal systems that keep a business running is another concrete example of the importance of IT services.
With ItNet you can automate your business processes, making workflow more streamlined and organized. 
ItNet offers you one solution for different requirements. ItNet can take care of different needs of your business like database management, documentation management, task management, and talent management.
Organize Company Manpower and HR Management
Stop peering at dozens of papers. Paper-based documents are no longer efficient and practical these days, as there are more hi-tech and more manageable substitutes for record-keeping.
ItNet integrates essential HR management modules and helps you engage your people and data at every stage, creating real business results. A great example is the creation of a portal that only in-house employees can access.
Enhanced Online Marketing Strategies
IT can facilitate more accurate market research and accumulate valuable data. Such as finding target audiences, discovering their unique needs and demands, and building a promotional campaign that persuades people to buy. IT helps in the decision-making process, enabling you to take instant, effective and smart decisions, such as introducing new products, allocating prices, promoting products and services, distributing, and keeping track of sales.