Veg Platter
Veg Platter wanted to start a niche online food delivery service. After careful deliberations and brainstorming, Veg Platter decided to choose Mart as its platform of choice because of its rich CMS capabilities, out-of-the-box apps and user-friendly features drastically cutting the time to go live for Veg Platter. Today, Veg Platter has over 200 restaurants offering food pickup and delivery in multiple cities in Haryana, India.
Concept
Veg Platter was looking to establish a reliable online food delivery service concentrating on vegetarian food. Their design concept revolved around green as the base color. Imbibe prepared a custom theme for its Mart platform as well as a customised look and feel for Veg Platter mobile apps backed by meticulously prepared asset set for Veg Platter.
Apni Market
Apni Market was looking for a platform that could help them provide a robust and reliable marketplace to local businesses/stores of all sizes and nature so that they could register themselves and start selling online to their customers, especially to the ones who are near to them.
After considerate thoughts and reviewal, Apni Market found Mart to be an ideal platform because of its extensive feature set and customizable look and feel, all of which were able to deliver the experience that they needed.
Concept
Apni Market wanted to provide a reliable e-commerce marketplace concentrating on local businesses/stores. They wanted a colour theme that would symbolize depth and stability and that's how they went for blue as the base color. Imbibe designed a custom theme for its Mart platform along with providing a customised look and feel for the Apni Market mobile apps to complement their vision.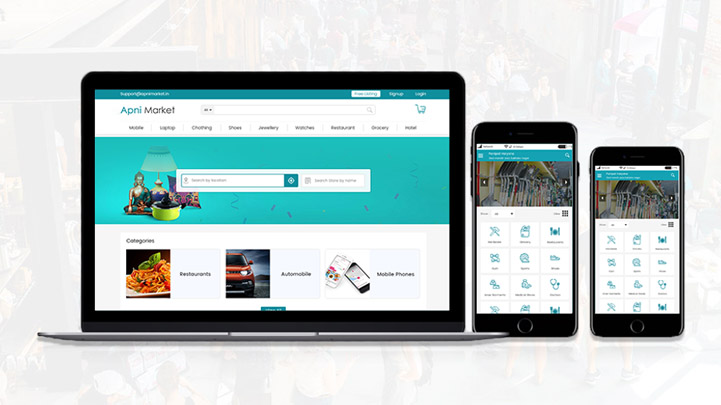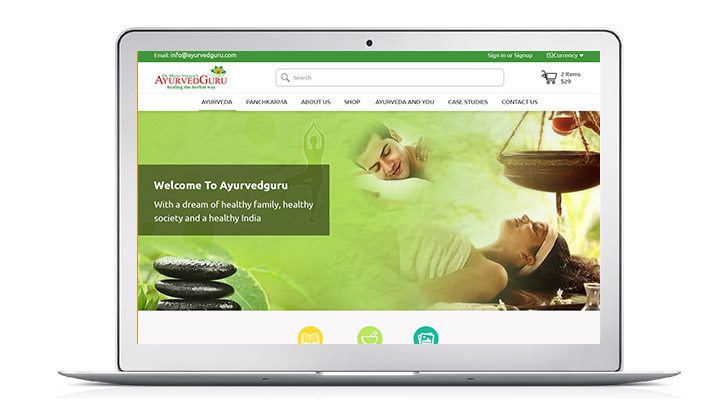 Ayurved Guru
Ayurved Guru, a Karnal-based Ayurvedic healthcare provider wanted to create an elegant and user-friendly website in order to provide visitors with information regarding Ayurvedic remedies and products to help them with their diseases and health issues.
After a thorough exploration, they found Mart standing up to their expectations and requirements. Moreover, the rich CMS capabilities and user-friendly features made Ayurved Guru feel good about their choice.
Concept
Ayurved Guru wanted a website offering Ayurvedic advice and products to customers helping them with the treatment of their health issues. For a website with Ayurveda as the main theme, green had to be the go-to base colour. By composing a custom theme for its Mart platform as well as customising the look and feel for the Ayurved Guru website, Imbibe helped to make the website more appealing and user-friendly.
Food Vatika
Food Vatika, a food restaurant in Panipat, has been serving its customers since 2016 and with each passing year it has seen wealth of love from them. Owners of Food Vatika were looking ways to bring their business online on a personalized app and website and Mart seemed perfect to them. Mart's attractive themes and easily customizable design helped Food Vatika to have their own internet space in matter of few days.
Concept
Food Vatika was looking for a personalized platform that can help their local customers to order food at the comfort sitting on their couches. The light-green as base colour with orange banner seemed perfect for their site. Imbibe designed a customized theme from its Mart platform that is both simple and easy to use. Their customer base is raising day by day now.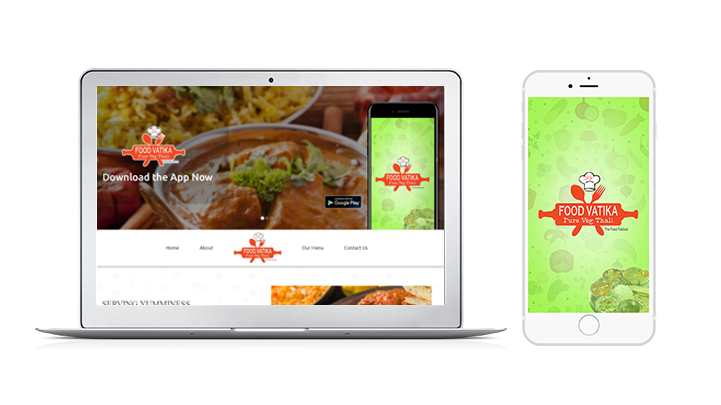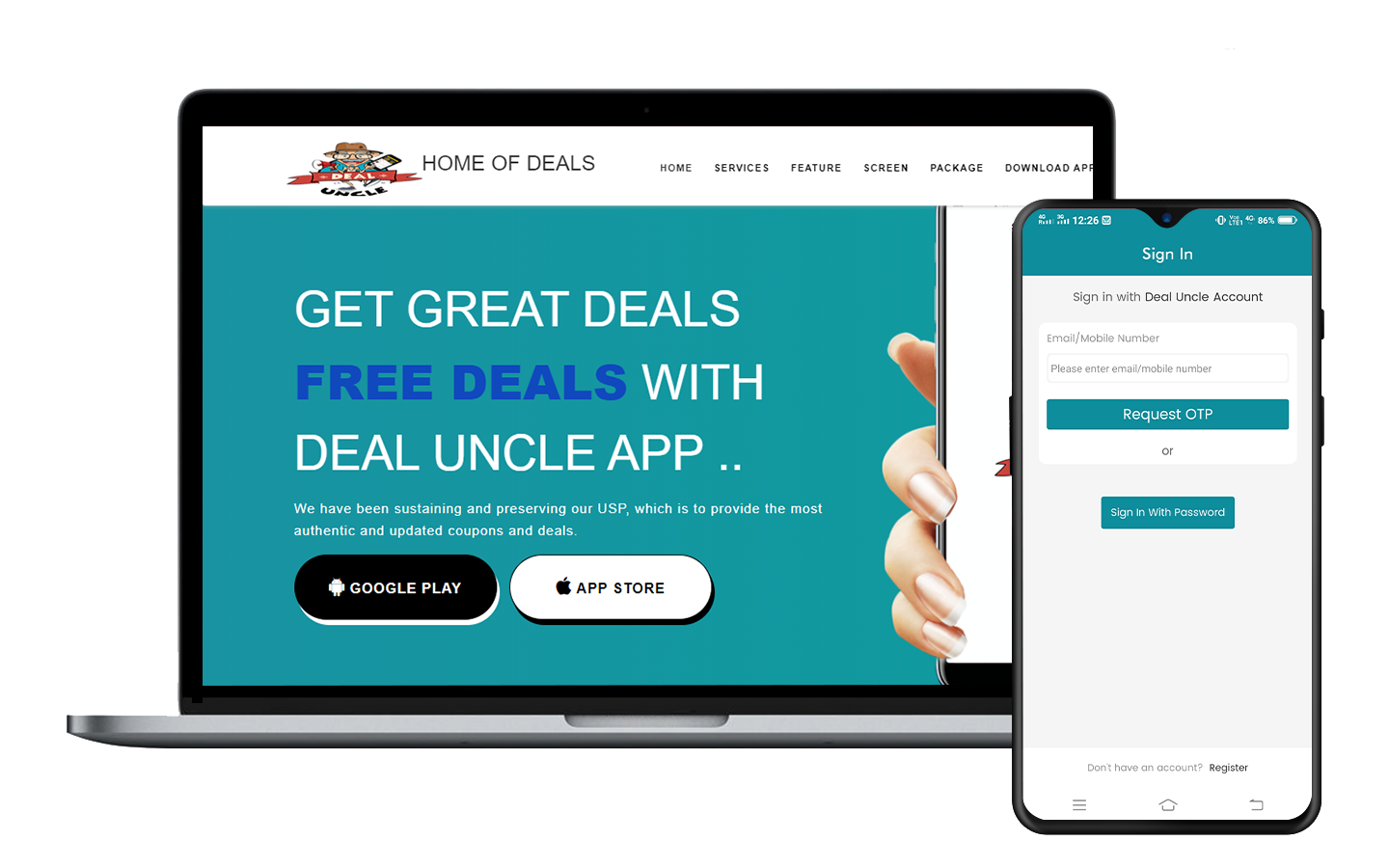 Deal Uncle
Deal Uncle was looking for a platform to connect with customers and stores at the same interface. A platform that showcases the latest offers and deals for different services across like Hotels, Restaurants, Spas, Salons, etc. After considering their requirements
and analyzing them precisely, we choose 'Mart' to connect different businesses with people at a single platform. 'Mart' has its own rich CMS, extensive user-friendly features and customizable approach. All of them when induced altogether made a very good
choice according to their expectations and requirements.
Concept
The Deal Uncle was looking to help customers discover fantastic offers at their favorite outlets. We offered them an amazing layout for the same that attracts the customers as well as became a sales channel for offline stores. Deal Uncle website and an App is
designed on Mart to provide the most authentic and updated coupons and deals. A professional blue color is chosen as its base color making it more appealing for customers. Both the website and the app are crafted in a way that is much easier to
use. Now, consumers are just a click from getting the right offer or deal from their favorite outlets, which has eventually boost up their customer base.
Deal Shop
Deal Shop was in search of developing an interface to create a website that is easy for your visitors to use. A place that displays the latest deals, coupons, and offers of local services like restaurants, salons, grocery, accessories and more. They were looking to
start with an affordable and quick setup that is flexible to run, save big and covers a large market. Knowing about their requirements we sorted out their needs and develop their platform using 'Mart'. The product of Imbibe 'Mart' has its own rich CMS, user-friendly features and easy navigation approach held together to develop a website and an app fro Deal Shop.
Concept
After understanding the requirements for displaying offers and coupons in detail, we planned a very easy and clean layout. Seeking on their needs for displaying nearby outlets' deals and coupons, a website and an app were developed on 'Mart'. The 'Mart' a product of Imbibe, offered a platform that ensured users easy navigation. The product's innovative and structured tools enable to build a more appealing website that showcase the latest offers. It helps to update easily the latest deals each day or even several times a day. The website, as well as the app, strive to develop relevant and valuable offers that address time-sensitivity. 'Mart' having its own CMS, extensive user-friendly features and a customizable approach has helped people to avail the Best Deal available.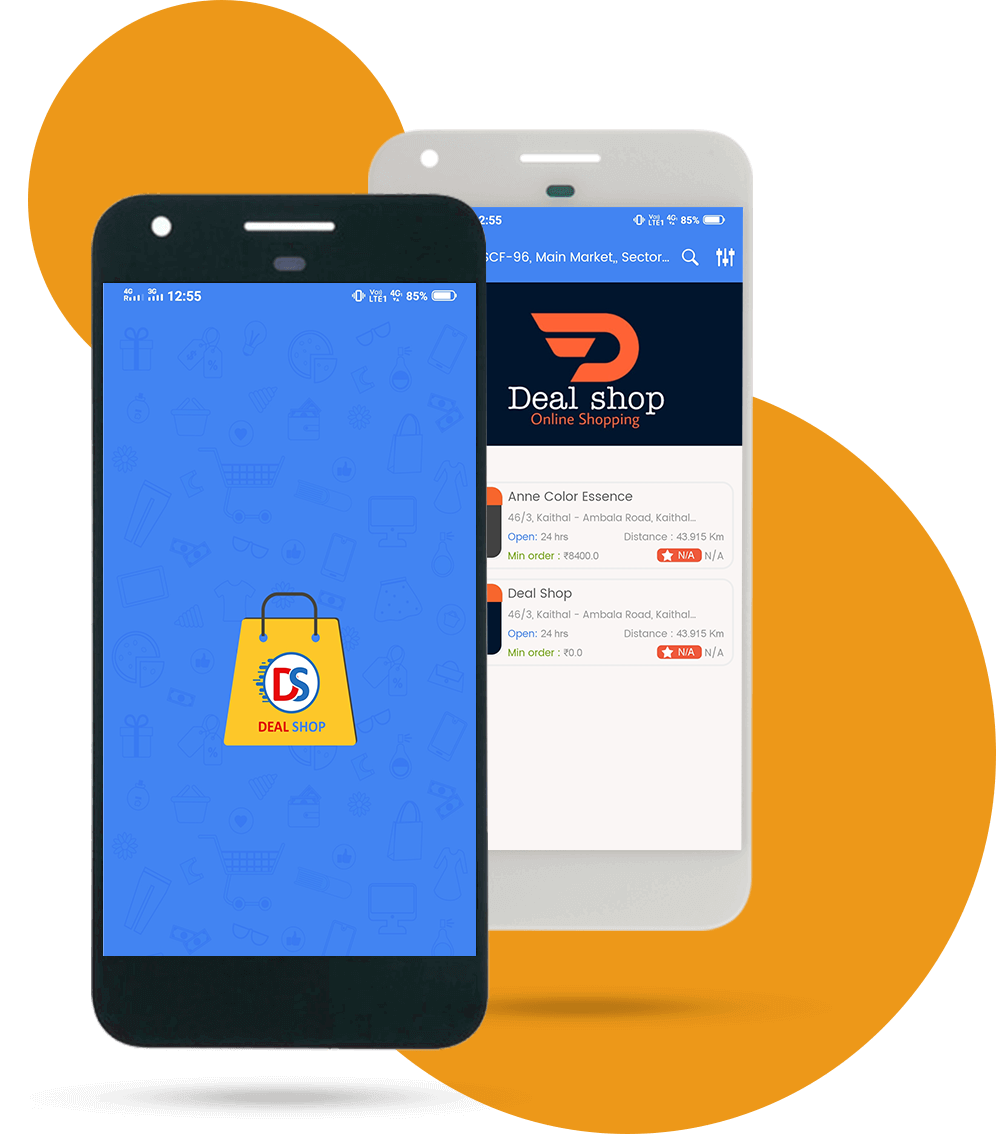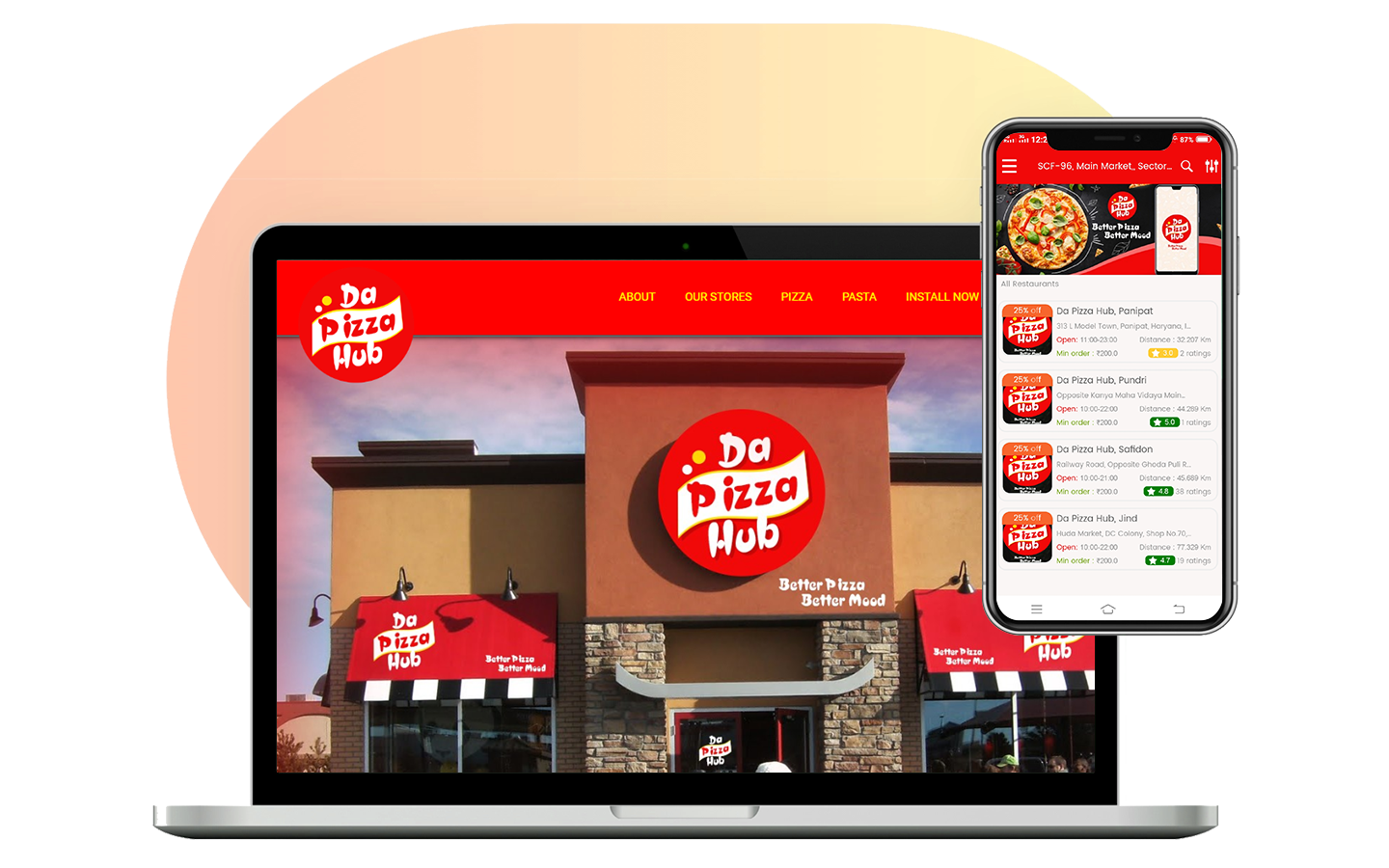 Da Pizza Hub
Da Pizza Hub has been serving tastiest pizzas in local areas for over 10 years, and they were looking forward to creating their own online platforms. Instead of trusting any third-party app which sucks on their profit margins, they ultimately decided to launch their own app to get customers. They chose Imbibe Technologies to develop an app for online pizza ordering.
Concept
We decided to create a simple app with an attractive UI and Navigation. The overall layout for Da Pizza Hub is simple and easy to navigate. We kept red colour in the background so to make it more appealing. After logging-in the credentials, the user will get navigated towards the menu section. The user can choose from the Pizza menu with add-ons and then easily place his order with all major payment gateways. We created different tabs for each component in the menu section. We followed the "Simple But Classic" approach to create it.
Imbibe wanted to make the pizza ordering journey for its users to be as smooth as possible. Da Pizza Hub App is the result of constant innovation and incessant hard work. Click here to download the App.
Aksh Deal
Aksh Deal came with a somewhat similar requirement of setting up their business online on a personalized app and website. They were looking for an online set up for selling their products and services with ease. Also, they want to showcase the latest deals on their products. Aksh deal offer clothing, footwear, AutoCare, Beauty care, electronics, furniture, and similar other products. After getting brief about their needs, we assumed our platform 'Mart' could be the best option. 'Mart' has its own rich CMS that let products to display in a manner that gives a customizable look and feel. This helped to get a great user experience, exactly what they needed 
Concept
Aksh deals want to become a one-stop online shop to buy any kind of product. From home decor to electronics, clothing to furniture everything was displayed with the help of 'Mart. Imbibe's product 'Mart' helped users to get a pleasant look and feel of the site and the app and offers an easy navigation option. Aksh deal app and website enables one to get a variety of items on a single click with a guarantee and great prices. All of which was made easy with the help of Mart's innovative and structured tools. Register easily and shop hassle-free with Aksh Deal.